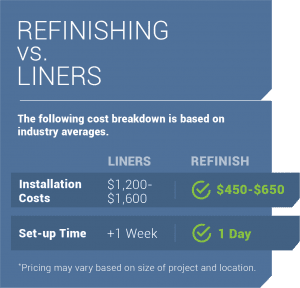 As a producer of high-quality refinishing coatings for bathtubs, countertops, tile and vanities, we understand that every project can be unique. Sometimes a bathtub or shower liner can be the appropriate solution for your situation.  However, after years of repairing failed liners with our refinishing tools, NAPCO warns contractors and homeowners to carefully consider their options before adding a liner.
---
Refinishers call NAPCO at 800-888-1081
Homeowners click here to find a refinisher
---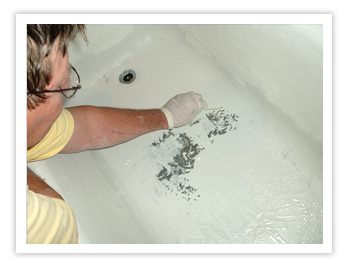 What is a bathtub liner?
A bathtub liner is a custom color and sized acrylic sheet that is molded to the shape of a tub. The tub liner is placed over your existing tub and adheres to the original with a chemical compound. It can a durable and economical solution over replacing a bathtub but is still typically more expensive than completely refinishing a bathtub.
---
More info: NAPCO Inlays
---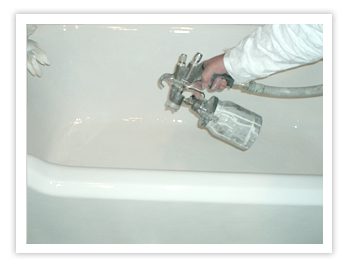 What is refinishing or reglazing a bathtub? 
One of major differences between refinishing a bathtub and adding a liner is repair.  In our experience, if a bathtub needs repaired, a NAPCO-certified contractor is skilled in repairing everything from chips and cracks to rust and mold. If a bathtub is heavily damaged and no amount of repair will cut it, you can consider using a tub liner. However, this is just an expensive band-aid for your bathroom. Bathtub and shower liners will not stop mold and mildew from growing underneath the liner and eventually you may end up having to replace your entire bathtub anyway.
---
More info: How to Refinish a Bathtub
---
How much does bathtub liner installation cost?
You should start your budget at about $1,200 - $1,600 for the installation of a bathtub liner. If you choose to add wall surrounds or other upgraded features, the cost can go up to $4,000! Conversely, the typical budget for refinishing a bathtub ranges between $450 - $650 depending upon the original condition of the bathtub. If you are interested in also refinishing the surrounding bathtub tile, budget up to $1,300 for the entire job. As you can see, the cost of refinishing is about 50% less than the cost of installing a liner.
How much time does it take to install a bathtub liner?
Since a bathtub liner needs to fit your bathtub precisely, you need to include time for a sales person to visit your home and take measurements.  Once the measuring is done and you have made choices about color and upgrades, the liner needs to be custom made to fit your tub. Once the liner has been fabricated for your bathtub - which could take a week or more to produce - you will need to schedule an appointment for the installers to come back to your home and perform the final installation.
How long does it take to refinish a bathtub?
Refinishing a bathtub and tile surround is typically done from start to finish in one day. Of course, the first step is to meet with your NAPCO certified professional refinisher to pick a color for your bathroom and determine if updating your vanity and countertops can also be done. Once you a pick a color, which can be customized to match existing pieces or changed to reflect the newest color trends, simply schedule a full day with your contractor to prep and refinish your bathtub. Your new bathroom can be used the very next day!
What can go wrong with a bathtub liner?
If your tub and shower liner leaks, mold and mildew can result. If a small crack or hole develops in the caulking along the seam between the liner and the vertical wall surround, water can penetrate and build up between the liner and the original tub. Water can also leak around the drain or overflow joints. If the liner does leak and water becomes trapped between the liner and the tub, it is virtually impossible to remove. Once the water has entered the space between the bathtub liner and original tub, you may start to feel a squishy sensation every time you step in and out of your bathtub. You will probably also start to notice a moldy smell from the mildew and mold that is growing due to stagnant water.
What else should you think about before installing a tub liner? You will need to hire a licensed plumber to contend with any problems resulting from the added thickness of the liner which may make a drain extension necessary. Aside from the additional expense of a plumber, you can usually count on a limited color selection.
---
Still not sure which option to go with in your bathroom?
Give us a call at 800-888-1081 to talk with our team. We can refer you to a NAPCO certified professional refinisher in your area to provide you with a free quote and answer your questions!