As a producer of high-quality refinishing coatings for bathtubs, countertops, tile and vanities, we understand that every project can be unique. If your tub has seen its better days and you're looking for a budget-friendly way to make your tub look like new, you may have to decide between bathtub refinishing or using a liner. After years of repairing failed liners with our refinishing tools, NAPCO warns contractors and homeowners to carefully consider their options before adding a liner. Quality refinishing by a NAPCO refinisher provides the best value for short and long-term fixes.
Bathtub Solutions
What is a bathtub liner?



A bathtub liner is a custom sized acrylic insert that is molded to the shape of a tub. The tub liner is placed over your existing tub and adheres to the original with a chemical compound. It can be a durable and economical solution over replacing a bathtub, but is still more expensive than completely refinishing a bathtub. Keep in mind, when liners are not properly installed, or if the seal breaks during use, water can leak underneath the surface causing mold and mildew to grow. If this happens, you will eventually need to have the liner removed and replaced, or even worse, potential replacement of the entire bathtub. Simply put, liners can be an expensive band-aid for your bathroom as they don't resolve the underlying problems.
What is refinishing or reglazing a bathtub?
Refinishing a bathtub is a process that uses the existing tub as a base for restoration. Prior to refinishing or reglazing a bathtub, the tub may need some repair. NAPCO's products can repair everything from chips and cracks to rust and mold. Essentially, professional refinishing takes an old, damaged tub and refreshes it to "like-new" condition without the hassle of a full renovation project by sanding, repairing, and adding a new coating that creates a smooth, glossy surface. If properly done with quality materials by a skilled refinisher, the result will be a beautifully refinished bathtub with a durable, porcelain-like finish in any color that you choose.
More info: How to Refinish a Bathtub
Bathtub Reglazing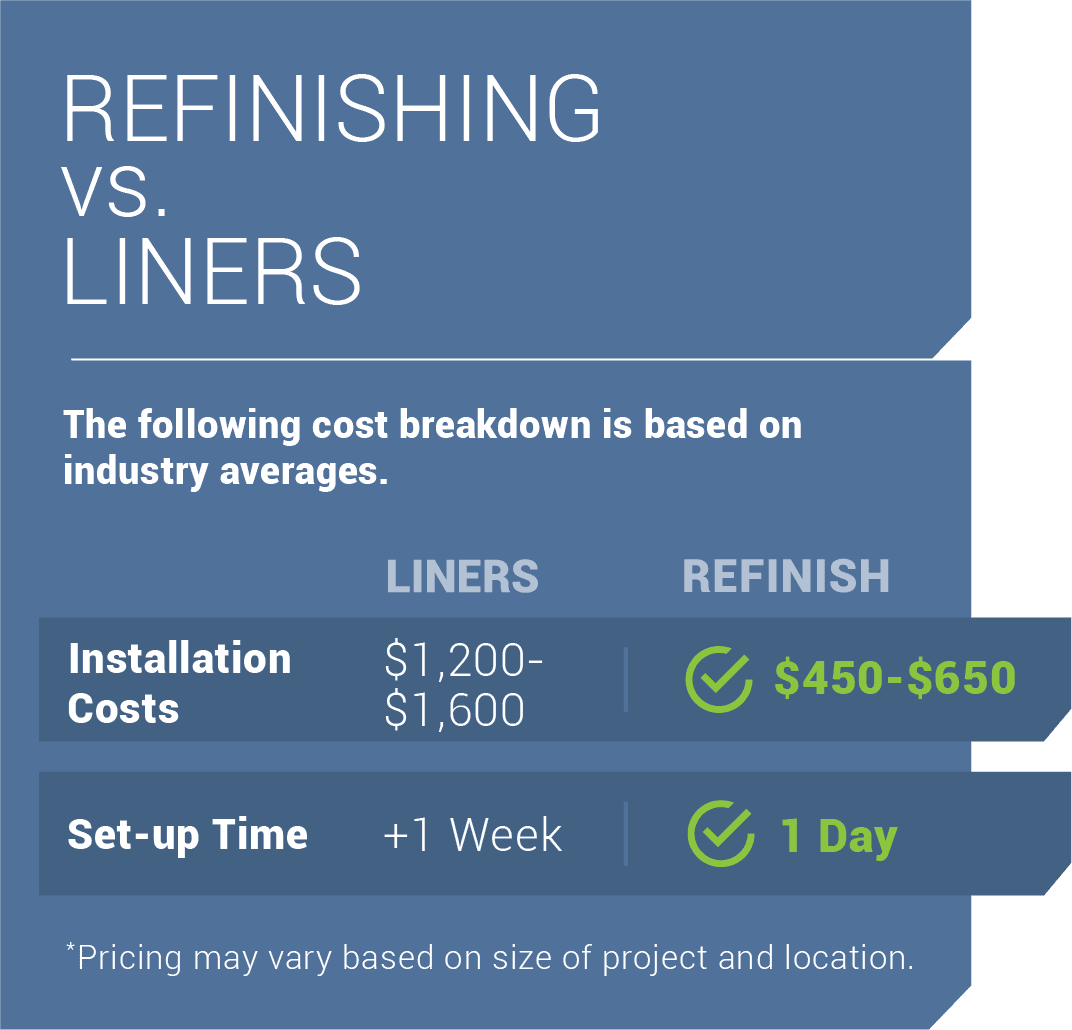 Costs
What is the price difference between liners and refinishing?
You should start your budget at about $1,200 - $1,600 for installation of a bathtub liner. If you choose to add wall surrounds or other upgraded features, the cost can go up to $4,000! Conversely, the typical budget for refinishing a bathtub ranges between $350 - $650 depending upon the original condition of the bathtub. If you are interested in also refinishing the surrounding bathtub tile, budget around $900 - $1300 for the entire job. As you can see, the cost of refinishing is about 50% less than the cost of installing a liner so if costs are a consideration, refinishing may be the better choice for you.
Time
How much time does it take to install a bathtub liner?
Since a bathtub liner needs to fit your bathtub precisely, you need to include time for a sales person to visit your home and take measurements. Once the measuring is done and you have made choices about color and upgrades, the liner needs to be custom made to fit your tub. Once the liner has been fabricated for your bathtub - which could take a week or more to produce, plus shipping time - you will need to schedule an appointment for the installers to come back to your home and perform the final installation. All in all, installation typically only takes a day or two, but the whole process can take weeks.
How long does it take to refinish a bathtub?
Refinishing a bathtub and tile surround is typically done from start to finish in one day. Of course, the first step is to meet with your NAPCO certified professional refinisher to pick a color for your bathroom and determine if updating your vanity and countertops can also be done. Once you a pick a color, which can be customized to match existing pieces or changed to reflect the newest color trends, simply schedule with your contractor to prep and refinish your bathtub. A standard color can be selected over the phone, simplifying and shortening the order process. Your new bathroom can be used the very same or next day!
Other Considerations
What problems can occur when installing a liner?
If your liner leaks and water migrates below the surface, mold and mildew can develop. If a small crack or hole develops in the caulking along the seam between the liner and the vertical wall surround, water can penetrate and build up between the liner and the original tub. Water can also leak around the drain or overflow joints. If the liner does leak and water becomes trapped between the liner and the tub, it is virtually impossible to remove. Once the water has entered the space between the bathtub liner and original tub, you may start to feel a squishy sensation every time you step in and out of your bathtub. You will probably also start to notice a moldy smell from the mildew that is growing due to stagnant water.
As you can see, both options have their advantages and disadvantages depending on need. However, because liners simply cover up the existing problems rather than solving them, we recommend considering bathtub refinishing vs using a tub liner. Bathtub refinishing using NAPCO products is a budget-friendly way to quickly bring your existing tub to like-new condition.
---
Still not sure which option to go with in your bathroom or have more questions?
Give us a call at 800-888-1081 to talk with our team.
We can refer you to a NAPCO certified professional refinisher in your area to provide you with a free quote and answer your questions!
---