Waterborne Products
Using water as a solvent to deliver eco-friendly refinishing solutions
NAPCO's waterborne products prove that eco-friendly solutions can be just as effective and easy to use as solvent-based products. Our Flint-Stone™ coating is one of our most popular waterborne countertop refinishing options. NAPCO has also developed an entirely new line of waterborne kitchen refinishing products called Kitchen Renew. Explore all our waterborne products that can support your efforts to provide eco-friendly refinishing services.

BENEFITS OF WATERBORNE PRODUCTS: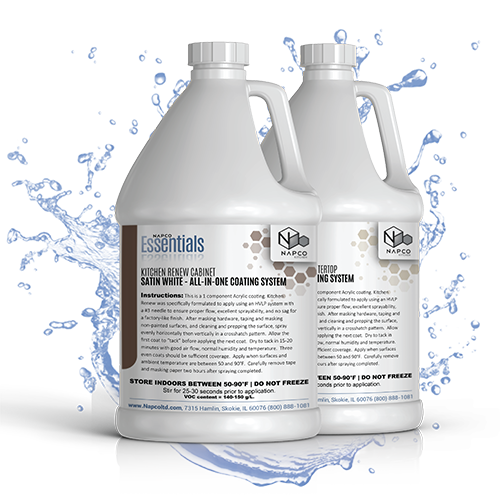 • What smell? – While most waterborne products still have some odor, the overall odor level is much less than solvent-based coatings.
• Lower levels of volatile organic compounds – Water-based coatings have considerably less solvents and will therefore, lower the VOC output.
• Eco-friendly – NAPCO's Kitchen Renew Satin Clear Countertop Coating received "Green Wise Certification" from CRGI. Products with the Green Wise label have been tested and certified by CRGI to meet or exceed environmentally determined performance standards established by CRGI's ISO-accredited facility.
• Easier to clean – Whereas solventborne coatings need special cleaners for your equipment and for overspray, you can simply use soap and warm water to clean your equipment once finished using the waterborne coatings.
• Reusable and less waste! – Unlike a solventborne coating that uses catalyst, any unused 1K waterborne coatings can be put right back into the container.

For more Information on Kitchen Renew and its product benefits click here.
---
Try Kitchen Renew - waterborne coatings specifically formulated for use on cabinets and countertops.
Order supplies online or call us at 800-888-1081
---
Prices start at
$48.18

Use the Kitchen Renew Gloss Countertop Coating for a flawless finish!

Prices start at
$35.19

One-part, sprayable waterborne primer for countertops, cabinets and other interior wooden surfaces.