Our Kitchen Renew cabinet coatings were created with the wellbeing of our refinishers in mind, and that is why our new cabinet coatings either meet or exceed the KCMA specifications after application. If you are currently refinishing kitchen cabinets, you will not want to miss this new addition to our NAPCO line. NAPCO is the only manufacturer in the refinishing industry with a 1K product – ALL IN ONE WATERBORNE. Below are the benefits and application highlights for your kitchen cabinet refacing project.
***Our Cabinet Coatings meet or exceed the KCMA (Kitchen Cabinet Manufacturer Association) specifications after application***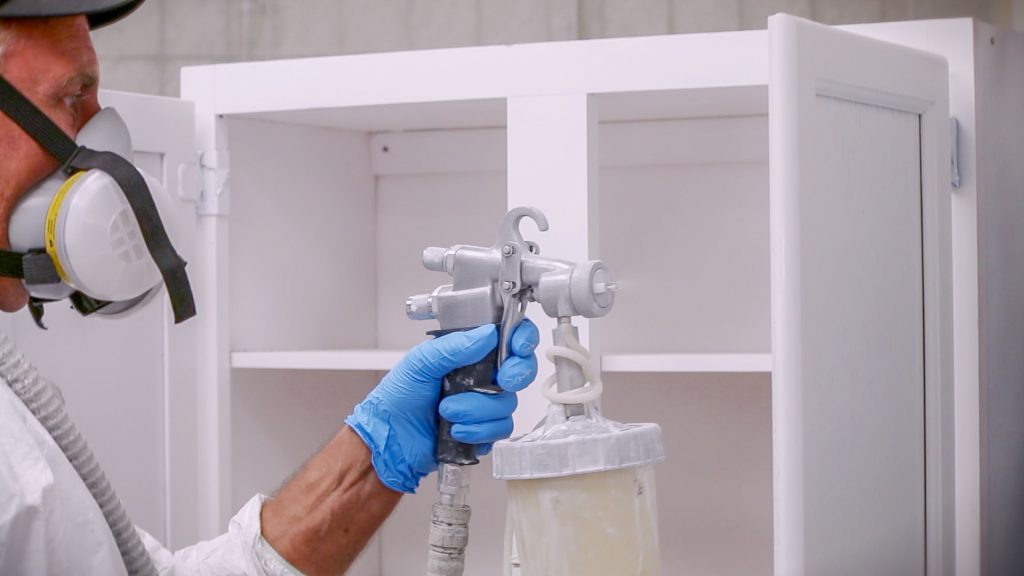 When Applying:
⋅ Applied with a #3 needle, just like our other coatings.
⋅ 1K product – ALL IN ONE WATERBORNE No mixing, no catalyst needed. Just load up the gun and apply. If using a PPS, remove the screen from the lid so as not to trap air in the coating.
⋅ Satin White is a paint and primer all in one. If using Satin White or a tinted version of Satin White, no need to prime unless trying to block stains/dark wood surfaces.
⋅ Make sure surfaces are cleaned/degreased, repaired (if holes/gouges present), and sanded/deglossed prior to application.
⋅ Sanding or deglossing is necessary for cabinets/wood with a prior finish (lacquer, stain, paint, etc.) Deglossing not necessary for virgin/raw wood, but splinters should be removed and surface should be clean and dry.
⋅ Leave doors and drawer fronts in place. If switching out hardware, you can remove knobs/handles which will reduce your masking time. Hinges and hardware should be fully masked and cut.
⋅ Use cardboard cutouts for the openings when masking.
⋅ By the time you apply your first crosshatch coat across all doors, drawer fronts, and, cabinets, the second coat should be ready to apply.
⋅ Do not over apply or apply too closely, as runs or sagging can occur.
⋅ End users can put things back roughly two to three hours after the coating is fully dry. Light use after 24 hours; full use after 48 hours - film will continue to harden over the next 5-7 days.
⋅ Easy clean up with soap and water!
⋅ Any unused clean material can be placed back in the container, so no waste!
How To Refinish Cabinets with NAPCO Essentials Kitchen Renew Cabinet Coating - Watch the Video
See our tech video below of our Tech/Trainer, Simon Newton, explaining the benefits and steps on how to refinish cabinets.
NAPCO is proud to offer top-of-the-line supplies for the kitchen resurfacing industry. Our Kitchen Renew line is specifically formulated for use on kitchen countertops and cabinet surfaces. Please see all Kitchen Renew product links below:
Kitchen Renew Satin White Cabinet Coating - smooth and beautify old cabinet doors and surfaces for a fresh new look!
Kitchen Renew Satin Custom Color Cabinet Coating - this waterborne coating is specifically formulated for use by an HVLP system to ensure a smooth, high-quality application. Can be made in most custom colors.
Kitchen Renew Satin Clear Countertop Coating - help your customers get the flawless finish they have been looking for, for a fraction of the cost!
Click here or call us today at 800-888-1081 for more information.