Equipment, Supplies, and Training for the Professional Refinisher
NAPCO Refinisher
3-Day Kitchen and Bath Refinishing Training - FAQ
Bathtub, Countertop and Cabinet Refinishing
FREQUENTLY ASKED QUESTIONS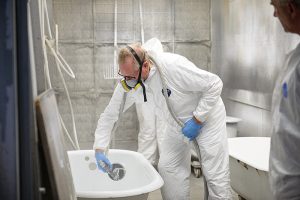 Q: How much can I make?
A: Your cost for chemicals, coatings, and sundry items is less than $25 per bathtub. It takes approximately 2 1/2 - 3 hours to professionally refinish a bathtub. Refinishers are getting between $325 and $550 per bathtub. That means you earn $100 plus per hour! Refinish only five bathtubs per week at $350 per tub (a lower price for professional work) and you will earn $1,750 per week. That's over $91,000 per year part-time! Most refinishers complete two tubs per day. Some hire additional help. In either case your income should be well into six figures per year.
Q: Why should I choose NAPCO over other training classes?
A: The difference is your success. Other training outfits give you mostly classroom education with little, if any, actual spraying experience. It's like watching someone give a haircut and then trying to open your own barber shop. NAPCO graduates receive several hours of personal hands-on spray time. We are the only class taught by a former franchise trainer. We offer convenient Saturday/Sunday and weekday classes to fit your busy schedule. Plus, all NAPCO customers earn everyday discounts in our Gemstone rewards program. The more you buy, the more you save!
Q: What type of experience does your trainer have?
A: Our trainer has extensive experience both refinishing and training. He is skilled at all aspects of the business, from start up to growing the business. He has done it all including leading the training division for a well respected national refinishing franchise. When people buy a franchise and spend that kind of money, the training better be good.
Q: Exactly what is covered in the class?
A: 3 full days, not 3 light ones - Wednesday/Thursday/Friday 3-Day Training Class.
---
Class Time
We analyzed the competitions' programs and focused on the essentials. We designed our class to deliver more hands-on bathtub refinishing training in 3 full days instead of three short ones. Convenient Wednesday, Thursday & Friday classes.
Competitors promise hands on training three days, but do not deliver three full 8-hour days of actual hands on training. We give you 24 hours of bathtub refinishing training in one convenient class. We don't waste your time and money with frequent brakes, long lunches and a short 4-hour third day. You focus on what you came to learn in order to be a professional bathtub and kitchen refinisher and start earning money right away. You're either spraying or learning with us… isn't that what you're paying for?
---
How to put together your business plan
Marketing your business
Repairing cracked or broken acrylic or fiberglass tub or shower bottoms for a big profit
Tub to shower conversions - profitable way to give access to the elderly and disabled
Intro to bathtub liners
Surface preparation for porcelain, acrylic, ceramic, fiberglass and more
Refinishing "how to" overview - bathtubs, wall tile, sinks, kitchen countertops, cabinets and appliances
Chip and spot repair
Color matching
Multi-colored faux granite countertop coatings
Slip resistant surfaces
Add on sales
Equipment requirements
Equipment maintenance
Product knowledge
Safety
Spraying basics
Hands-on spraying practice - Click here for videos of spraying training
Staying competitive
How to make the bidding process work for you
Hiring employees
Tub detailing
More Spray Basics
Question and Answer Session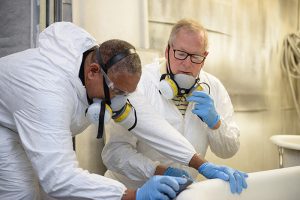 Q: I'm worried I won't be able to sell my services. Can you help?
A: Your trainer, NAPCO's trainer has hands-on experience getting refinishing work. He will teach the skills and methods you'll need to go out and start getting work right away. And when you leave class, you are not alone. We offer many of the same services as franchises but without the heavy investment. We'll help you with...
Weekly follow-up emails from the trainer with action steps to keep you on-track to succeed
Brochures, business cards and other materials you need to succeed.
Marketing and business plan help.
Affordable web sites to give your business a professional image right away.
Q: What type of guarantee do I get with NAPCO?
A: We have a 100% Money Back Guarantee policy. If we fail to deliver, you get your money back. It's that simple.
Q: Will I actually get to spray in class?
A: Absolutely! Compare our class to other weekend refinishing classes that give their students little to no actual spraying time and the choice becomes clear. Each class will spray both bathtubs and countertops and receive several hours of hands-on spray time. You will personally have many opportunities to spray while the instructor analyzes your work and develops your spray technique. NAPCO gives you the skills you need to run a successful refinishing business.
Q: Can I learn refinishing in just 3 days?
A: Yes. This class is designed to give you all the skills and hands-on experience you?ll need to be successful. However, we encourage new trainees to practice the skills learned in class to develop their technique and further advance their skill level.
Q: What will it cost to start my business?
A: Operating your refinishing company as a home-based business is extremely affordable and easy, since there are no leases to sign and no rent to pay. And, unlike retail businesses, there's very little inventory to stock, keeping your overhead extremely low. Refinishing is one of the most affordable, high profit businesses available! NAPCO's 3-Day Kitchen and Bath Refinishing class is just $3,995, and includes all the coatings, chemicals and equipment you need to get started on your career as a professional refinisher.
Q: What happens if I'm out in the field and can't figure something out?
A: Simply call us toll-free and talk to the person who trained you. You may run into a situation you have never seen before but you won't be alone! We'll help you through it so your customer is happy. This is critically important in the first 6 - 12 months. Other training outfits don't offer this NAPCO exclusive.
Q: Can I start my refinishing business and keep my full time job?
A: Refinishing is the perfect business for people who don't want to or can't afford to give up their full time jobs. Book your work to fit around your full time job until your business grows. Or operate your business on a part time basis permanently and keep your full time job. It?s up to you! Refinishing gives you the flexibility to grow your business as big as you want it to be.
Q: Should I add this to my existing business?
A: Refinishing fits perfectly with many service or trade related business. You already have contact with decision makers who need this service, making it an easy sell. Contractors, painters, carpet cleaners, construction clean up services, rehabbers, tile setters, grout replacement services and handymen are among the businesses that have had great success adding this service.
Q: I think I'll need help with the business end of things. How much help do you provide?
A: We provide you with a lot of help! You'll receive expert advice on starting your business, bidding jobs, hiring help, advertising and much more. Our high level of support, and commitment to your success after the class really set us apart. You'll be in business for yourself but not by yourself. These are many of the same services offered by franchise outfits without the mega investment. We help you with...
Weekly follow-up emails from the trainer with action steps to keep you on-track to succeed
Brochures, business cards and other materials you need to succeed.
Marketing and business plan help.
Affordable web sites to give your business a professional image right away.
Q: What type of lodging is available?
A: DoubleTree by Hilton Hotel Chicago - North Shore Conference Center in Skokie. NAPCO has arranged a low rate of $125.00/ a night that includes breakfast at Jameson's Charhouse as well as shuttle transportation to and from NAPCO every day during the training class. Each guest will be welcomed with a warm DoubleTree chocolate chip cookie. You will receive even warmer reception from their staff. The DoubleTree is located across the street from the wonderful Old Orchard Shopping Center that has upscale retail stores, movie theaters and a wide variety of restaurants.. Click here for more information about the hotel.
Q: Will I receive a certificate or diploma?
A: Yes. This is very helpful with getting your company insured and with your advertising. People love to deal with a trained professional.
Q: Usted ofrece la clase en español?
A: Yes, we have bilingual staff members and can arrange for a translator in class. Please call us toll-free at 1-800-888-1081 for more details.
Q: I want to send my employees to your class, but I don't want them to learn about starting a business, sales and marketing. Do you offer classes that are designed for employees?
A: Yes. Many companies send their employees to us for training every year. Like you, they do not want their employees to learn about the business topics. We can custom design a class for your employees that meet your needs and budget. Please call us toll-free for details at 1-800-888-1081.
Q: Do you have references from former NAPCO students that I can contact?
A: Absolutely. We are very proud of our high quality class and encourage you to make sure our class is right for you. Call us toll-free at 1-800-888-1081 for references. Or click here to check out some of our students' written. We encourage you to take a close look at what we have to offer, because the closer you look at us, the better we look.
GET GOING ON YOUR NEW CAREER!
Call us for more information at 800-888-1081