Why use countertop resurfacing?
Refinishing gives your counters, and your kitchen or bath, new life for a fraction of the cost of replacement. Many older countertops are structurally fine. The very top surface might be damaged, or maybe the color gives your kitchen or bath a dated feel.
Save cost: Refinishing can saves 70% or more over the cost of replacement.
Modern look: Using Flint-Stone topcoat, you get the beautiful look of stone.
No mess: Replacement means ripping out existing countertops, sinks, fixtures, even possible plumbing changes. None of this is required when refinishing.
Fast: Refinishing is done in one day. Replacement can take weeks to measure and order.
No maintenance: Refinished counters don't require yearly messy sealing like granite.
Add on profitable sales with countertop repair
NAPCO has everything you need for counter top repair and counter top resurfacing - click here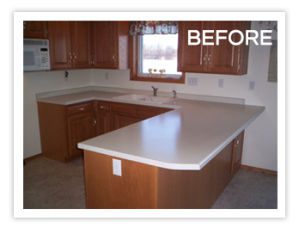 Click here to find a professional refinisher in your area.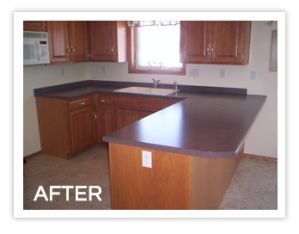 Counter top refinishing makes sense for the environment
Refinishing can help ease the landfill crisis by keeping current countertops and fixtures out of the landfill. Counter refinishing is a hot small business opportunity. Click here for more information on our Professional Countertop and Bathtub Refinishing Training.
How the process works including countertop repair
Cabinets, backsplash, fixtures and the floor need to be covered. Grease, oil and dirt should be cleaned with specialized cleaners. Scratches and chips can be fixed with compounds specifically formulated for this purpose. Countertop repair can be tricky. It's best left to an expert if you want the finished surface to look nice and smooth. The surface is then prepped to ensure proper adhesion. At least 3 coats of polyurethane coating should be applied, resulting in a durable, like-new surface.
Colors
There are several color options to go with your existing decor. Our Flint-Stone multi-colored coating has flecks in it that gives the sought after look of stone without the cost. Ask your refinisher for swatches of actual Flint-Stone coatings for your counter top resurfacing job.
Do-it-Yourself Countertop Resurfacing
DIY resurfacing kits are available in some stores and on-line. However, countertop refinishing isn't really something most people can successfully do themselves. Let's face it; the kitchen may be the focal point of your home. If you want the end result to be smooth, shiny and streak-free, you really need a professional for your countertop resurfacing project.
NAPCO offers a referral service for trained countertop refinishing experts. Click here to find a professional refinisher in your area.