Equipment, Supplies, and Training for the Professional Refinisher
NAPCO Refinisher
Countertop Refinishing Products
NAPCO is proud to offer top-of-the-line supplies for the kitchen resurfacing industry. Our Kitchen Renew line is specifically formulated for use on kitchen countertops and cabinet surfaces.

NAPCO Essentials Countertop Coating Benefits:
• Can be sprayed wet over wet, no need to wait for the FlintStone coating to dry - saves 24 hours of labor/waiting time!
• Levels to a smooth finish, no need to sand - another time/labor saver
• Dry to tack in 20 minutes
• Easy clean up with soap and water!
Any unused clean material can be placed back in the container, so no waste!

Kitchen Renew Satin Clear Countertop Coating - help your customers get the flawless finish they have been looking for, for a fraction of the cost!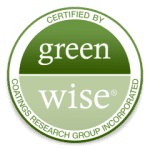 NAPCO Kitchen Renew Satin Clear Countertop Coating Received Green Wise Certification from CRGI. Products bearing the Green Wise label have been tested and certified by CRGI to meet environmentally determined performance standards established by CRGI's ISO-accredited facility for specific types of products and meet or exceed the VOC requirements of LEED® for most applications. Read more ...
---
Use our countertop resurfacing products to increase sales!
It's really a no-brainer. You customers can spend on average $3,000 or so to replace countertops, or have you repair and resurface them for pennies on the dollar. Our countertop refinishing products and countertop repair products let you give them the look of real stone but without the cost and hassle of replacement.

NAPCO Flint-Stone line of faux-granite coating comes in 27 colors, making it easy to match a customer's décor. Flint-Stone sprays on just like conventional coatings. You mask off the cabinets and walls from overspray and then spray like normal.

Professional kitchen refinishers can order supplies online or call us at 800-888-1081.
Testimonials
Review by

Mike Reddy

– All Access Adaptations, LLC
NAPCO Ltd
Rating

I was fixing to do my first counter top using the Flintstone and the Polyglass 320 Clear that I had brought back from the Napco Refinishing Class I had attended earlier. I had seen the email for the water based Kitchen Renew clear counter topcoat launch and decided to give it a shot as I try to go water based anytime I can as long as it is a good product. Having dealt with other clear urethane coatings I was glad this was an option. I had already refinished all the tile surround, tub, and wainscoting in the two room bath with Polyglass 320, of a homeowner that had recently found out she was expecting and she was concerned about the fumes. The product sprayed as I expected and laid down nicely. The smell was almost nonexistent and what little there was dissipated quickly. I dried to a nice firm finish and had gotten pretty hard by the next day when I went to check on it. As it fully cures I would expect it to be a very durable hard yet flexible finish. Went from a faded and stained yellow acrylic top to the Flintstone in Cappuccino with the Kitchen Renew Satin Clear Topcoat. Everyone was surprised it was the same top.
I will definitely be using it again as well as the rest of the Napco water based lines as they become available.