Add on profitable sales with countertop repair
NAPCO has everything you need for counter top repair and counter top resurfacing
Counter Top Refinishing Coatings
Use the same coatings on counter tops as you do on tubs. That means no added inventory costs. NAPCO's coatings are the best in the industry and that makes it easier to get more sales. Our PolyGlass©320 low VOC coating is a good example. This coating is compliant with the new government VOC regulations, yet is as easy to use as conventional coatings. It is has 50% greater impact resistance and you can put the counter top back in service in 2 hours at normal room temperature. Your customers will love that! Click Here for more information on this and other great counter top resurfacing coatings.
Countertop Refinishing Supplies
Homeowners want their kitchen to look super nice when you get done so offering repairs when doing counter top refinishing is critical. The good news is that repairs are easy with NAPCO's full line of counter top repair items. Click here for a full list of repair items.
Countertop Repair and Resurfacing Training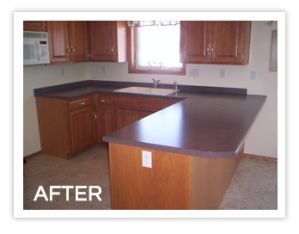 Are you tired of your current job and want to be your own boss? Does the possibility of a six-figure income sound attractive? Take a look at tub, tile, shower and counter top refinishing. NAPCO offers the industry standard in training. Our class is different than others in one important way: we offer more hands-on training. We cover refinishing and repair of tubs, tile, counter tops, sinks and showers. We offer convenient weekend and weekday classes to fit your schedule. Classes are a full 2 days of both classroom and hands-on instruction with a 20-year veteran instructor. Click here for more training information.