We are thrilled to announce the launch of a brand-new product line, "NAPCO Essentials" for the refinishing market! The first products in the new environmentally-friendly refinishing line are formulated specifically for use in the kitchen. NAPCO is actually the only manufacturer in the refinishing industry to offer a 1K waterborne coating! The products, developed at our home office in Skokie, IL, mark an important expansion for us from bathroom refinishing into the kitchen and additional areas of the home.
"In the past, our products and contractor trainings have been focused on refinishing for the bathroom," explained Steve Coven, owner and CEO of NAPCO. "Increasing our product variety, especially in the waterborne category, to include kitchen countertop and cabinet options is a logical expansion for NAPCO as a refinishing industry innovator. We are excited to launch our new "Essential" Line and our kitchen refinishing training program this year," Coven added.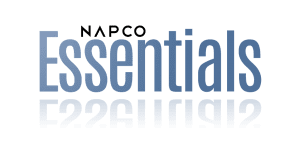 "NAPCO Essentials" line launches with "Kitchen Renew," three waterborne refinishing coatings products for kitchen cabinets and countertops. The new products are formulated to save contractors' time with all-in-one benefits that include no thinner, no catalyst and no mixing. The countertop products can be sprayed wet-over-wet and level to a smooth finish. There's no waiting for counters to dry and no sanding to level the finish! Additional benefits include drying to tack in twenty minutes and easy soap and water clean-up. "Kitchen Renew" cabinet coatings meet or exceed the specifications set by Kitchen Cabinet Manufacturers Association after application.
The products come in a satin clear countertop coating that functions as a top coat over NAPCO's popular Flint-Stone, faux-granite product. The other two "Kitchen Renew" products are kitchen cabinet coatings, both featuring a satin finish. One comes in white that can be easily tinted to match light tones and pastels, and the other is clear and can be customized to create almost any color.
"One of the main reasons that we are branching out into kitchen refinishing is because of our loyal customers," continued Coven. "The recent gains in overall spending in the home remodeling industry indicate that quality refinishing services are going to be in higher demand. With our contractor training program and new "NAPCO Essentials" line, our contractors and our customers can capitalize on this trend by offering whole-home solutions to their clients."
In addition to our new "NAPCO Essentials line," we will also be enhancing our renowned refinishing training program to include instruction in kitchen refinishing. We are so excited to finally bring these amazing new products to you, our loyal refinishers!