New Product is Completely Free of Strong Acid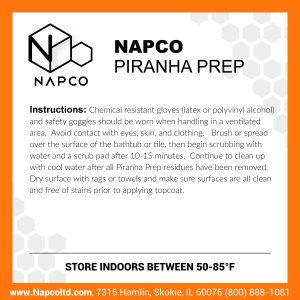 We are pleased to launch our newest environmentally-friendly product, Piranha Prep. This new hydrofluoric acid-free refinishing product is a combination etch and cleaner. It is perfect for use on tile, ceramic, or porcelain surfaces. Vertical clinging gel works to eat away at stubborn stains and simultaneously roughens the surface. It has been safely formulated so that it is completely free of hydrofluoric acid, one of the dangerous chemical compounds often found within etch treatments. Piranha Prep is now available for purchase on our website https://www.napcoltd.com/napco-piranha-prep 
Customers should apply the product while wearing chemical resistant gloves and safety goggles. Be sure that your work area has sufficient ventilation and avoid contact with your eyes or skin. For best results, brush or spread Piranha Prep over the surface of the bathtub or tile and wait 10-15 minutes. Scrub the surface with water and a scrub pad and continue to clean with cool water after all material has been removed. Dry the surface with a clean towel and make sure the surface is clean and free of stains prior to continuing the refinish job.
"By developing a hydrofluoric acid-free combination of etch and cleaner, NAPCO provides its customers with a safer way to etch and clean a tub," said Steve Coven, CEO of NAPCO. "This new product also enables refinishers to save time on their work by eliminating a step in the refinishing process."
An additional benefit of this new product is that by eliminating strong acids from the etch and phosphoric acid from the cleaner, it's actually much safer for refinishers to use.
NAPCO is always looking to innovate on behalf of our base customers, as well as to make products that are safer for not only our professional refinishers but also for our employees as well.