Equipment, Supplies, and Training for the Professional Refinisher
NAPCO Refinisher
9 Bathtub Refinishing & Reglazing Problems (& How to Avoid Them)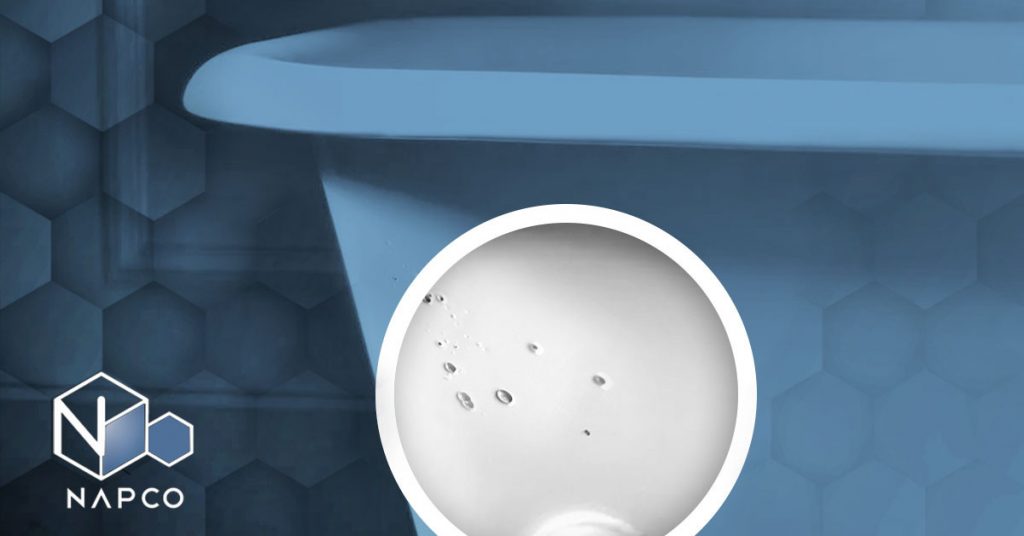 Bathtub (and tile) refinishing is often overlooked by the average homeowner looking to repair or renew their bathtub. However, refinishing a bathtub is not only cost and time efficient for both the refinisher and homeowner, but it also helps our landfill issues tremendously. Why rip out your ugly or damaged tub when you can refinish it and make it last up to another 5-10 years?
The best part about bathtub refinishing or reglazing is that homeowners can enjoy a new-looking tub at a fraction of the cost of remodeling, renovation, or replacement. Typically, a bathtub can be refinished in one day in a matter of only hours. However, issues can arise if refinishers use incorrect techniques or low-quality products.
So, here are some of the most common bathtub refinishing problems to lookout for and how to avoid them.
9 Bathtub Reglazing & Refinishing Problems
1. Bubbling
Bubbling typically occurs when the surface isn't properly cleaned or prepared and air gets trapped between the individual layers of coating. In other words, the coating will not adhere to the surface or lay flat as it should, and bubbles will form.
The Solution: Strip or scrape the area and properly clean the tub and tile with a combination etch and cleaning product prior to respraying.
2. Cracking
Cracking occurs when the coating is over catalyzed and is curing too quickly. This could indicate that the coating failed to keep water and air out.
The Solution: Strip the cracked area and respray with a proper ratio of catalyst to resin.
3. Chipping
Chipping can happen when the end user is too aggressive with an area—like dropping heavy items on the tub or tile causing damage—or if the prep work wasn't done properly by refinishers.
The Solution: Clean and spot repair the area as soon as possible to prevent further damage.
4. Peeling
Peeling is caused by improper cleaning and surface preparation—and it can also occur if the refinisher has applied the coating way too heavy.
The Solution: Strip, clean, prep, and respray.
5. Fading
If the refinish coating is mixed too thinly, several problems can occur, including fading.
The Solution: Invest in top-quality coatings that do not fade.
6. Cratering (Fisheyes)
Cratering is caused by silicone contamination on an improperly cleaned surface.
The Solution: Have fisheye eliminator on hand and add after first coating is applied and fisheyes are noticed.
7. Rough Texture
Rough texture is caused by overspray hitting the surface.
The Solution: Wet sand with 800 to 1000 grit and then move up to 1500 according to surface.
8. Sticky To Touch
This occurs when the coating has been under catalyzed and doesn't cure properly.
The Solution: Strip the tub and start over by using the correct mix ratio in product instructions.
9. Dry Spray
Dry spray is caused when the coating is being applied too quickly or sprayed from too far away. The temperature of the room—such as the room being too hot—could also be a factor.
The Solution: Wet sand with 1500 grit paper after the coating has fully cured, wipe with tack cloth, and then buff and polish the area.
How to Avoid Bathtub Reglazing Problems
1. Prepare the Site Properly
Cover and protect any areas in the room that will not be sprayed, including the floor. Place a paper or plastic cover over the door to prevent any overspray from exiting the room (bathrooms).
Scour and strip the entire surface inside, outside, and on top of the tub.
Use a combination etch and cleaning product to clean tub, tile, and shower surfaces (not fixtures). Be sure to only apply product on the surfaces that will be sprayed, or the fixtures will dull from a reaction to the combination etch and cleaning product.
2. Repair the Bathtub
Now that prepped surfaces are clean, make any necessary repairs such as fixing chips, rust spots, pits, etc. Use a white water chip filler or longstrand fiberglass filer and sand the repair areas smooth once fully cured.
NOTE: Sand only areas of the unit with chips and rust as necessary (only fiberglass tubs get fully sanded).
Once everything is repaired and when moisture is no longer introduce, blow out the surface with compressed air and use a tack cloth to pick up any debris and dust left behind.
Also, at this time, set up the ventilation system running fumes out a window or exiting door from the house or building.
3. Prime, Refinish, & Coat the Bathtub
Mix the topcoat in your pot at the proper resin, catalyst, and thinner ratio. Set pot aside.
Apply a wipe on primer such as Gorilla Grip across the entire surface. With Gorilla Grip, there's no etching, sanding, spraying primer, or cleaning your gun after priming. It really is a time saver!
NOTE: The topcoat must be sprayed within 10 minutes or less once Gorilla Grip has been applied. The sooner the spray, the better (which is why we prepare the resin pot prior to applying the primer).
Spray first coat of the topcoat and wait until dry to tack, 5-7 minutes.
Spray second topcoat layer and wait until dry to tack, 5-7 minutes.
Spray final topcoat layer. The final coat should be dry to touch within 25 minutes.
NOTE: Do not use or set things on the surface until fully cured.
How Long Does It Take to Refinish a Bathtub?
Typically, a bathtub can be refinished in one day in a matter of only hours. Timeframe can range from 6-8 hours for new refinishers and approximately 2.5-3 hours for seasoned refinishers.
How Many Times Can a Bathtub Be Refinished?
A tub can be sprayed an infinite number of times, but if the coating is applied properly, the one application can last 5-10 years or longer.
How Long Will a Bathtub Refinish Last?
If coating is applied properly, the one application can last 5-10 years or longer.
Can You Reglaze or Refinish a Tub a Different Color?
Yes, you can spray a tub any color. NAPCO offers a complete color range from white to black. Call us with the brand name and color number or mail us a color sample of what you are looking for and we can make it for you in any of our coating lines.
Avoid Bathtub Reglazing & Refinishing Problems with NAPCO's Industry-Leading Training
By attending NAPCO's training class, you will learn the proper procedures and processes required to have full success in refinishing a bathtub (along with tile, countertops, counters, and more)! Additionally, you will learn about the best coatings and chemicals in the refinishing industry that you may have never used before or may not be familiar with.
Ready to start a lucrative career working for yourself? Earn $100.00/hour or more in a fast-growing trade that pays big dividends.
GET GOING ON YOUR NEW CAREER! Call us for more information at (800)888-1081.