Many coatings used for refinishing bathtubs, sinks, tiles, and countertops have high volatile organic compound (VOC) levels that are harmful to the environment.  NAPCO offers an eco-friendly poly-glass coating that is long-lasting, quick drying, and VOC compliant.  Our Poly-Glass 320 coatings have a low VOC rating and they are effective for refinishing bathtubs as well as sinks, tiles, and countertops in kitchens and bathrooms.
Eco-friendly Coatings

Using bathtub and countertop coating products that have high VOC levels is not only dangerous for the environment, but it can also result in a fine.  It is very important to use products that are compliant with VOC regulations and your customers will appreciate the choice of using eco-friendly products.  Our Poly-Glass 320 coating products are compliant with the government's stricter VOC regulations and they can match or exceed the performance of any similar coating used within the industry.  With these coatings, refinishers can advertise that they provide green, eco-friendly coating options with a fast turnaround time that allows customers to "shower in 2 hours" after the bathtub refinishing.
You and your customers can expect the same quality results and performance from our Poly-Glass 320 coatings as from any of our other bathtub and tile refinishing products.  These poly-glass coatings will revitalize kitchen and bathroom countertops and vanities in addition to bathtubs and sinks.  These products are also ideal for tile refinishing and reglazing to restore the look of ceramic tile surfaces.
Benefits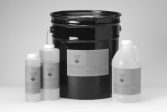 The Poly-Glass 320 coating products that we offer have the following benefits:
Less Odor: The odor is much weaker than in other bathtub and countertop coating products and it will dissipate faster.
Good Impact Resistance: These coatings will wear better and last longer with 50% greater impact resistance.
High Gloss: When applied correctly, our poly-glass coatings have high gloss.
Fast Drying: These coatings are dry to the touch within 5-10 minutes which reduces the risk of imperfections from runs or dust. You can also apply another coat much quicker and remove the masking paper to caulk much sooner which shortens time on the job.
Ready in 2 Hours: The sink, countertop, bathtub, or tile surfaces will be ready to use in 2 hours. This is a great selling point because your customers will love the convenience.
The low VOC rating along with the durability, ease of application, and quick drying time make the Poly-Glass 320 coatings our fastest selling coating products for bathtub, sink, tile, and countertop refinishing.  You have nothing to lose and everything to gain by trying these products.  Order your supplies online or call NAPCO at (800) 888-1081 to place an order.