There's good news and there's bad news.
The bad news is that according to the Leading Indicator of Remodeling Activity (LIRA) released by the Remodeling Futures Program at the Joint Center for Housing Studies of Harvard University, remodeling spending is expected to slow down considerably by the end of 2019.
Specifically, they project that renovation and repair spending in the U.S. will shrink from 7.5 percent in 2018 to 5.1 percent in 2019. This is due to a variety of factors, including flat home sales activity, rising mortgage interest rates and slowing house price appreciation rates, which cause owners' interest in making major investments in home improvements to decrease.
The good news is that home improvement and repair spending is still set to reach more than $350 billion this year, and the even better news is that as a refinishing business, there are things you can do to remain profitable and busy even during a remodeling slowdown.
How To Keep Your Refinishing Business Busy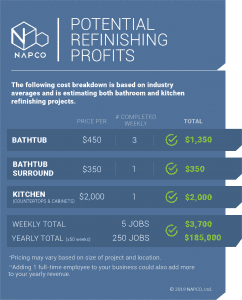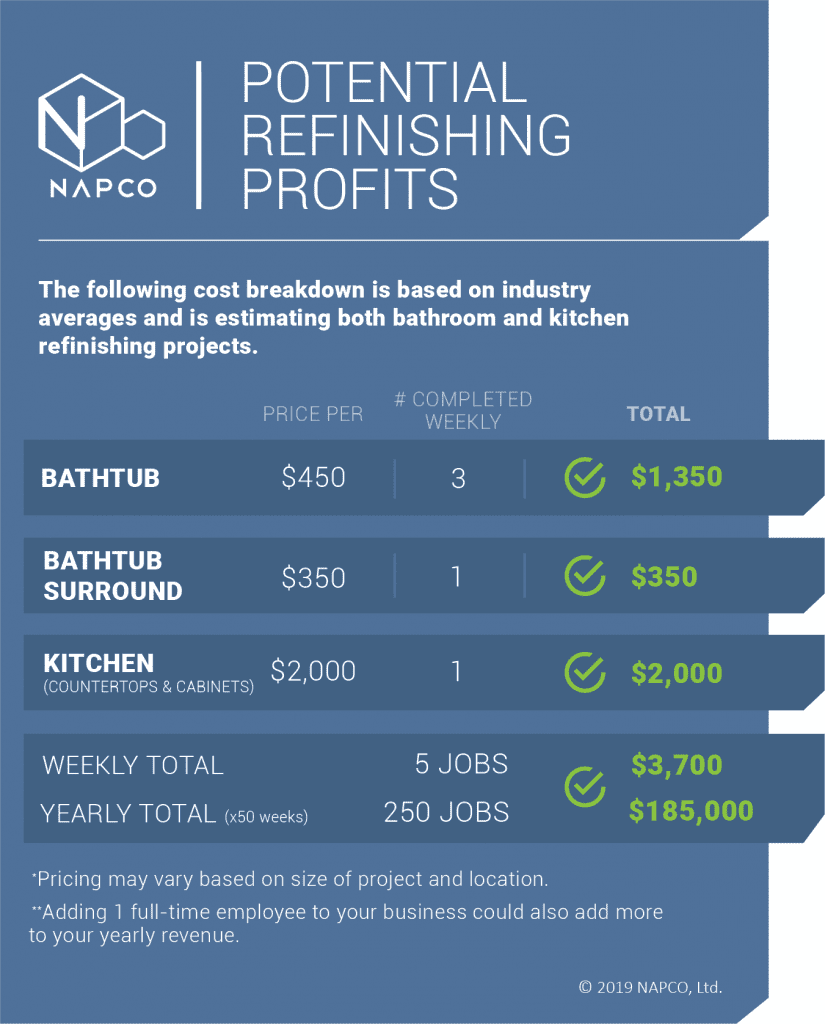 Below are three proven strategies you can use to keep your refinishing business going strong.
1. Diversify your services. If you want to appeal to more customers, you're going to have to make them an offer they can't refuse, and that starts with offering them a variety of services. If you currently only refinish bathtubs and bathrooms, consider adding kitchen refinishing to your business to boost income. After all, one bathtub refinishing customer will be set for the next decade or so!
Keep in mind that customer will remember your good work and will likely hire you again when they learn that you offer new services like countertop or kitchen refinishing. This strategy allows you to appeal to past customers, and also add new customers looking for reliable refinishing.
2. Re-engage past customers and prospects. If someone has already used your services, they're more likely to hire you again when their next refinishing need arises. Call on former customers to let them know that you have added new refinishing services to your business and how you can help meet their needs.
Don't forget about contacts that entered your sales process at some point in time but didn't hire your company for the job, for whatever reason. Now is the time to routinely follow up with them, even if you didn't get the sale. Maybe they didn't move forward for their own reasons, but now they're looking to hire for that job again. Maybe they went with someone else initially but ended up unsatisfied with the results.
The goal is to engage with customers who were previously in the sales pipeline — either as a paying job or a prospect — and show them the value and expanded services you bring to the table.
3. Optimize your marketing efforts. Now is the time to step up your marketing efforts, and it doesn't have to cost an arm and a leg. Start by making sure your website is clean and professional and showcases all the services you offer, as well as customer reviews and important contact information.
Next, add your business to Google My Business, Yelp for Business and Bing Places, which helps your business rank better in the local refinishers search results. And finally, don't forget about the effectiveness of a local newspaper ad, direct mail and advertising wraps on your company vehicle. This is an easy and effective way to get your name out to prospective customers.
The Bottom Line
Just because a remodeling slowdown is predicted doesn't mean you can't still have a thriving refinishing business. Follow the tips above, provide exceptional service and you can remain busy — and profitable — throughout the year.
If you would like further advice on how to expand your refinishing business, get in touch with our customer service team at 800-888-1081. We'd be happy to talk to you about growth strategies and share our training manual with you!